After one year of launching GlobeCom Extranet 1.0, we are happy to announce that the newest version – Extranet 2.0 – is live!
Our customers have enjoyed using our self-service solution. The Extranet has been praised for providing a good overview of their assets and sales statistics. The best part is that all data is collected in one place!
Big Ambitions for Globecom Extranet
And yet we continue working on improving the Extranet. We have big ambitions for our self-service solution. Therefore, we have added new features to provide additional transparency.
Disposing of out-of-service IT hardware at GlobeCom is beneficial for your budget and the environment. Therefore, we have introduced a CO2 certification.
Return Batch Status – Follow Your IT Hardware Assets
All customer IT equipment is registered in the Extranet upon arrival. With Extranet 2.0, our customers can now follow the progress of each return batch. They can see when:
A return batch has safely arrived at the warehouse,
Our IT technicians have started to process it,
The processing is done, meaning the functional assets are ready for remarketing, whereas the non-functional are sent to the nearest recycling station.
Whenever the return batch status has been changed you receive email notification.
What happens when a return batch is processed?
Every piece of equipment undergoes the 5-step refurbishment process:
To access the return batch history overview, please click on the specific batch, where you should see a similar window:
The most straightforward way of saving C02 for already-produced electronics is to prolong their lifespan. So, every time our sales team succeeds in reselling your IT assets, you not only get a good buyback price, but you also save C02.
GlobeCom has a partnership with Stena Technoworld – a global expert in e-waste management. So, whenever a part is broken beyond repair or cannot be sold, it is recycled. We ensure that none of your retired assets end up in a landfill.
In Extranet 2.0 customers can download their C02 certificates. Moreover, for every ton of CO2 our customers save, we plant one tree in the Danish forests with the help of our partner Klimatræ.
Overview of all the recycled assets
In the Extranet, you can see every item of every return batch. And now, in Extranet 2.0, you can specifically look at all the recycled items on a new page. This way, you can be sure which items have been sold, recycled, or waiting to be sold. The best part is that all these lists can be exported to Excel and downloaded directly.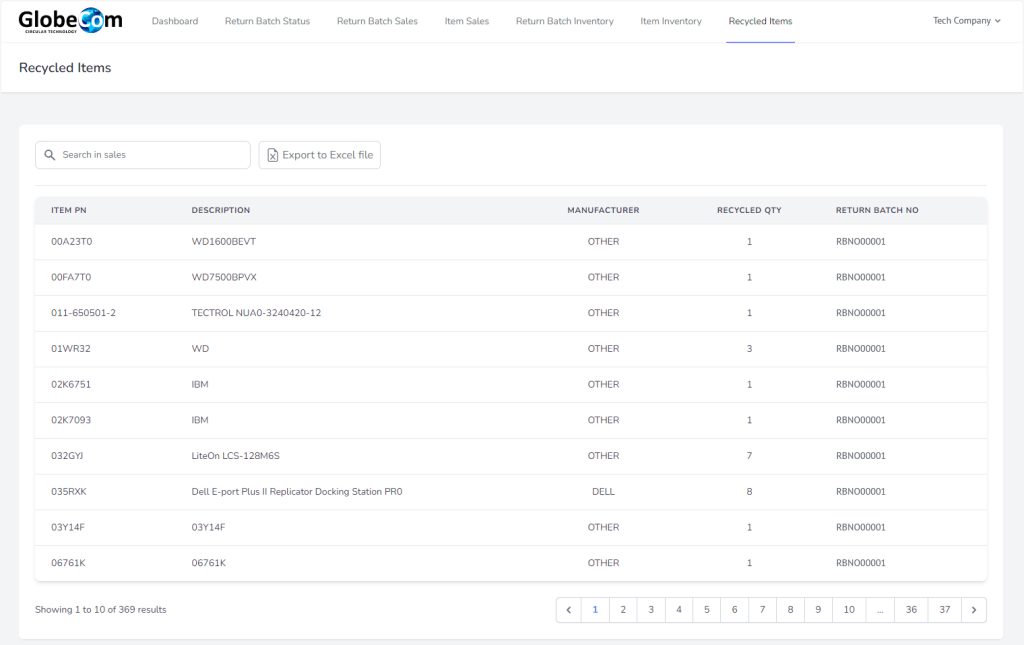 Quarterly Reports and a Notification System
And finally, you can now view summaries of quarterly reports with details about IT asset sales, and fees, for example, shipping and licensing (licensing covers expenses regarding data erasure). This way, you are confident about how much value you have returned from your retired IT assets quarter after quarter.

Once a quarter is over and we have paid you your money, it can be seen in the Invoiced column. However, if you haven't sent us an invoice you will receive a reminder email two weeks after the quarterly summary is available on the Extranet. Without the invoice we cannot make the payment and therefore close the quarter.
In Fall 2022, we launched a brand-new self-service solution – GlobeCom Extranet. A digital solution for our current customers to access our detailed auditing reports. We provide detailed sales statistics, meaning no remarketing data slips through the cracks.
Let us help you with returning IT investments
Every customer with an active return batch at our warehouse gets a user profile for the Extranet – without additional cost! If you would like to discuss how GlobeCom can return the value of your IT hardware, please get in touch with us by mail at sales@globecom.eu or call us directly at +45 77 34 83 30.